Family Dentistry and General Dentistry Who to Approach for What?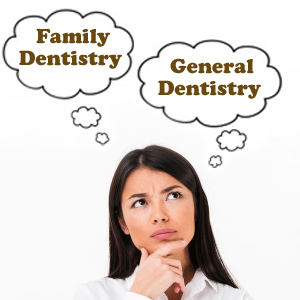 Do you know how family dentistry in Linden NJ is different from general dentistry? People assume that family dental services and general dentistry are the same. Although both these terms sound similar, there are differences between them. Read on to find out whom you should choose and for what purpose.
General Dentistry Against Family Dentistry in Linden
Let's understand the differences based on some common factors:-
General Definition & Services Offered:
Family dentistry and general dentistry often offer a similar set of services. However, at family dentistry, you'll find more than one expert. There'll be dental experts specializing in different dental procedures. So, you get a multi-specialty treatment at family dentistry.
General dentistry is similar to a common dentist's office. The aim of general dentistry is similar to family dentistry, i.e., to diagnose problems and maintain your oral health. However, a general dentist offers limited services.
A general dentist can perform X-rays, teeth whitening in Linden, and similar procedures. However, he can only install a dental implant if he specializes. But at family dentistry, you are likely to get a dental implant installed. It's because there are multiple dental specialists there.
If you're seeking family dentistry in Linden, NJ, contact the Center of Dental Services.
Target Patients:
Usually, general dentists treat adults or have a specific age criterion for patients. Let's say a general dentist deals with kids above 12 years of age. Now, if you have a kid between 8-11 years, you'll have to find a pediatric dentist in Linden or a family dentist.
However, at family dentistry, the whole family can be treated in one place. Whether it's a newborn or a 65-year-old, family dentistry like the Center of Dental Services will treat you there and then.
When to Visit a General Dentistry:
You should visit general dentistry for:-
Regular dental checkups.
Toothache.
Teeth Whitening.
Bleeding Gums.
When to Visit a Family Dentistry:
You should visit family dentistry for:-
Almost every dental problem.
Treating young kids if regular dentistry has an age restriction.
Treating the entire family concerning dental issues.
Specific dental treatments a general dentist is not specialized for.
Conclusion:
You can simply visit our Linden Dentist, Dr. Myung Hyon and Dr. Mrunal J Patel at the Center of Dental Service. Their institution caters to multiple dental needs. We also accepts patients from the surrounding areas such as Avenel, Colonia, Iselin, Rahway, Carteret, Clark, Winfield, Cranford, Garwood, Kenilworth, Roselle Park, Hillside, Westfield, Woodbridge, and Scotch Plains
---
---