What Is the Difference Between an Orthodontist and a Family Dentistry?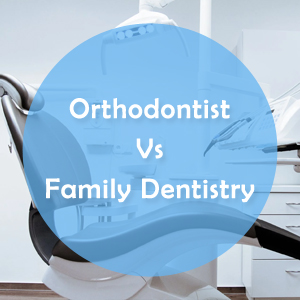 General dentistry is an umbrella term that is mistakenly employed for many specializations within the field like pediatric dentistry, family dentistry, orthodontists, and more. In our previous blog, we have discussed what separates orthodontists from dentists in Linden? Read on to discover the difference between an orthodontist and family dentistry. If you are confused between an orthodontist and a family dentist, read on to clear your doubts. But If you are out in the market looking for the best family dentistry or orthodontist in Linden, visit Center of Dental Services.
Common Factors Between an Orthodontist and a Family Dentistry in Linden:
A family dentist and an orthodontist in Linden, focus on your oral health needs. A family dentist simply refers to a dental expert who treats patients of all age groups. From kids to adults, family dentists handle the entire family's dental requirements. However, an orthodontist works in a particular dental office and works just like a family dentist does. Therefore, both an orthodontist and family dentistry in Linden are quite similar in this prospect.
What Factors Separate a Family Dentistry From an Orthodontist in Linden?
An orthodontist usually goes through additional dental school/training to acquire that particular dental specialty. Another major difference between a family dentist and an orthodontist is that an orthodontist specializes in helping patients with teeth alignment issues. Orthodontists also solve issues such as improving teeth bites, fitting corrective braces and using other devices. If any patient has any overbite issues, an orthodontist in Linden can help him take corrective treatments for the same.
What Are the Services Offered by Orthodontists and Family Dentistry in Linden?
As mentioned earlier, an orthodontist in Linden specializes in the alignment of teeth. They provide services such as:
Misalignment of Teeth
Crowded Teeth
Overbites and Underbites
Crooked Teeth
Teeth Spacing
TMD Disorders
On the other hand, a family dentistry in Linden offers treatments such as:
Tooth Decay Treatment
Root Canals
Gum Diseases and Infections Solutions
Dental Crowns
Dental Bridges
Dental Dentures
Dental Veneers
Teeth Whitening and so much more.
Conclusion:
Dental health plays a pivotal role in our general well-being. Hand-picking a family dentist nearby or a reputed orthodontist can help you maintain your oral health. To avail the finest family dentistry in Linden or to get the finest orthodontist, visit our dental office Center of Dental Services right away. Schedule your first consultation with Dr. Myung Hae Hyon today or call us at 908-925-8110 right away for a conversation!
---
---