What Separates Orthodontists from Dentists?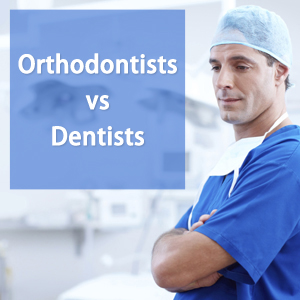 Dentists and orthodontists help us regain our oral health. But they both do it in contrasting ways. If you suffer from a dental issue, then who will you approach for a solution? Hence, it is essential to grasp the basic differences between an orthodontist and a dentist. In our previous blog, we have explained how emergency dentists perform dental implants in Newark? Read on to discover the necessary details from this blog.
Dentistry is an all encompassing field which manages everything related to teeth, jaw, nerves and gum. But orthodontics is a specialty contained within dentistry. It concentrates more on rectifying bites, teeth straightening and occlusion. One primary difference is this: all orthodontists can be categorized as dentists but all dentists do not fall under the licensed orthodontist's classification.
The Similarity Between Dentist and an Orthodontist in Linden:
Oral care is the prime concern of dentist and Orthodontist. An orthodontist in Linden can be part of a dental office and can provide the same care as a dentist. They both are alike in this respect. They are considered doctors and deal with gums and teeth.
Dissimilarities Between Orthodontist and Dentist in Linden:
Additional schooling is necessary to become an orthodontist since it is a dental specialty. This is like a doctor who opts for additional schooling to be a surgeon. Orthodontists are specialists in resolving teeth alignment issues, bite improvement, suggesting corrective braces and other devices. If an individual shows indications of overbite, a dentist in Linden will suggest the person consult an orthodontist for expertise.
Services Provided by Dentist in Linden:
Dentists usually aim to promote good oral hygiene. They offer services such as:
Root canals
Teeth Whitening
Tooth decay
Crown
Bridges
Gum disease treatment
Veneers
Services Offered by Orthodontist in Linden:
Teeth alignment is the specialty of any orthodontist. They are well versed to handle other services like:
Overbite
Crowded teeth
Underbite
Misaligned teeth
How Can an Orthodontist in Linden Aid You?
If you are bothered by crooked teeth, underbites, overbites, spaces between teeth, crossibtes, overcrowding or temporomandibular disorders, orthodontist in Linden can assist you. You can consult an Orthodontist if you need medical attention for your jaws.
Besides extractions a dentist will be able to offer Orthodontic care and the above mentioned issues. But approaching an Orthodontist for a convincing solution will be wise.
Conclusion:
If you are in search of an orthodontist in Linden, consider the Center of Dental Services. Dr. Myung Hae Hyon, a seasoned general dentist, practices at this clinic. Dr. Myung Hae Hyon will address all your queries. Browse through the website of the Center of Dental Services to gather more information about their services and the testimonials. Dial us at (908) 925-8110 right away to arrange for an appointment.
---
---